Patio season is officially upon us. In many parts of the country, people are shedding their winter layers, welcoming spring with open arms and are ready to get back to one of America's favorite pastimes: brunch!
Daily Jam is the restaurant destination for delectable brunch dishes and gram-worthy cocktails, whether guests are looking for Sunday Funday with friends or time to spend with family. While COVID-19 has altered the way many restaurants operate­ — adding new regulations and precautionary measures — more and more restaurants across the country can re-open dining rooms and ease restrictions. Through innovations such as tableside ordering and popular limited-time offers, Daily Jam has safely welcomed in plenty of eager diners over the past few weeks.
And, while the restaurant industry was heavily impacted over the past year, Daily Jam President Berekk Blackwell recently connected with Franchise Dictionary Magazine to share how the pandemic caused business growth in smaller markets outside of big-city borders – and where Daily Jam has come into play.
"The pandemic has forced many businesses to consider work-from-home opportunities and the benefits of having headquarters in different cities across the U.S.," says Blackwell. "This has led to an influx of businesses moving their headquarters or a significant portion of their operations to new cities, like Phoenix, Denver and Austin. This movement provides for a healthier restaurant market in these smaller demographic areas and has caused sustainable growth in a variety of smaller-market cities."
Commenting on the flexibility of real estate within the brand, Blackwell reinforced the fact that Daily Jam's numbers are currently growing outside of the typical hotbed areas of Los Angeles, New York, Chicago and Houston. And, even within these smaller markets, Daily Jam has an edge.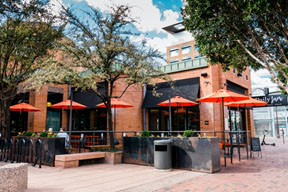 "While many of these smaller metropolitan areas have a significant number of unique competitors who are local favorites, Daily Jam stands out from the original hometown favorite through differentiating factors that include our fast-casual ordering format, our ability to handle increasing off-premises order demand and our creative and innovative menu offerings," says Blackwell.
Daily Jam's fast-casual brunch model has been thriving at a pivotal point in the restaurant landscape. One recent survey on consumer behavior shifts shows that 51% of consumers plan to splurge or treat themselves, some starting immediately and some waiting for COVID-19 to subside – the latter half plan to splurge mainly in experiential categories such as restaurants and travel. Higher-income millennials are intending to spend the most.
Daily Jam has proven to be a successful investment over the last few years. Overflowing with upbeat vibes, gourmet food and beverage selections, and plenty of indoor and patio dining space, our brunch concept appeals to a wide variety of demographics and dining preferences. In addition, many elements of Daily Jam's operations are better for the bottom line compared to other restaurant concepts outside of the breakfast and brunch categories.
"Brunch restaurants, in general, are appealing to investors because of the efficient margins," Blackwell adds. "Specifically, Daily Jam's fast-casual model provides efficiencies in the labor model for restaurants. With a smaller footprint, patio and an outdoor window, Daily Jam is adaptable for a variety of markets."
Brunch is back, and Daily Jam is poised to grow in key markets across the country following the pent-up demand for fun, quality dining experiences. If you're hungry for your next entrepreneurial venture, look no further than Daily Jam.
Contact us today to learn more about franchising with Daily Jam.